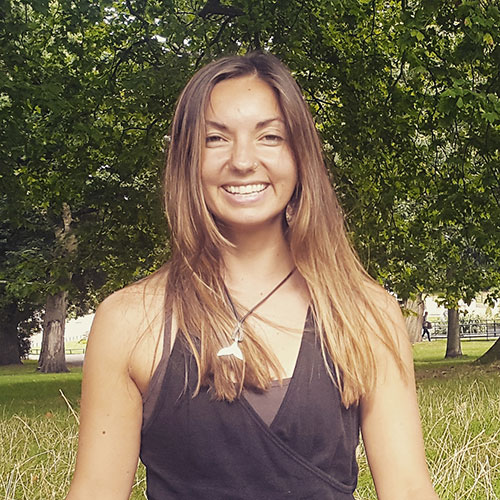 Hi, I'm Clare Hudson, and I'm a yoga (RYT 500) and meditation teacher based in the Earlsfield/ Wandsworth area of London. I specialise in 1-1 and small group yoga and meditation sessions — tailored for you and your life.
I first tried yoga in 2001, after practising gymnastics for six years. What started as a more physical and fitness orientated practice as a teenager, led me later on to explore yoga on a deeper level and develop a regular meditation practice.
Over the years, I've tried a variety of different styles of yoga which include Sivananda, Ashtanga Vinyasa, and more restorative styles of yoga. I've also been to India multiple times over the last decade to practise and study yoga in Kerala, a Sivananda yoga ashram in Tamil Nadu and more recently, the holy town of Rishikesh, to complete my  500 hour Yoga Alliance accredited teacher training.
I'm passionate about providing yoga sessions that allow you to find your own journey with yoga where you can explore who you are in the moment without judgment.
Far too often in life, we're on a constant mission to be somewhere else or we're striving to reach the next milestone. I certainly relate to this. Yoga, for me is the perfect opportunity to connect back to where you are in this moment, practising kindness and not  judging others or yourself for who you are or how you're feeling right now.
What else am I interested in?
In addition to yoga, I enjoy writing, I have a degree in Fine Art, and I'm the co-owner along with my Mum, of the Etsy shop, Yoga Spirit Art, where we design and sell yoga and nature inspired art prints. I'm interested in the future to create workshops that combine art, yoga and conscious movement.
My yoga and meditation qualifications
Yoga and meditation teacher trainings
October 2017
Pre and post natal yoga teacher training in Arundel West Sussex with Sally Parkes (85 hour Yoga Alliance, Yoga Alliance Professionals and FEDANT accredited)
July – October 2016
Yoga teacher training in India with Krishna Sikhwal, Deepa Lakhyani and Mimi Adeogba from 

Rishikesh Yog Peeth (500 hour Yoga Alliance accredited training)
October 2014 – October 2015
Yoga diploma in London with Conrad Paul from

Yoga Professionals (REPS accredited)
April 2014 – June 2015
Meditation, Stress Management, Applied Philosophy & Eastern Psychology teacher training with Alexander Filmer Lorch (200 hour Yoga Alliance Professionals accredited training)
Yoga and meditation intensive courses and workshops
Teaching yoga one to one with Erika Shapiro at Yogi Yoga (8 hours)
Vinyasa flow sequencing – a subtle art with Erika Shapiro at YogiYoga (2 days)
Supporting injured students workshop with Andrew McGonigle (Doctor Yogi) at Triyoga (7 hours)
Embodied yoga anatomy course with Jennilee Toner from Ekhart Yoga (5 days)

Vipassana silent meditation (10 days)

Sivananda (Tamil Nadu, India) ashram stay, learning and practising yoga and meditation (2.5 weeks)